As Earth Day approaches, here at Britannica, we have much to celebrate…
Since the start of the academic year, with a more sustainable future in mind for our planet, we have been taking various steps to make Britannica a greener school together with our students, teachers, parents and the wider community.

We have reduced our carbon footprint by becoming proud partners of the ELMŰ-ÉMÁSZ Zöld Partner programme – this 'Green Partner' programme certifies internationally that the school's energy supply comes entirely from renewable sources.
Carbon Neutral School Uniform with Trutex
In an effort to provide high-quality, affordable and sustainably school uniform, we have partnered with Trutex as our new School Uniform provider from the 2021-22 academic year. For over 150 years, Trutex have supplied high quality school uniforms to customers across the UK and the around world, and have always been committed to nurturing the future, now more than ever. Trutex became the UK's first carbon neutral schoolwear company and have been a carbon neutral organisation since 2012.

All Trutex garments are Made to Last, with superior fabrics and construction that ensure the school uniform will be grown out of before it's worn out.
60% less micro-plastic fibre shedding than other leading brands
100% stronger trousers and 100% less shrinkage on polo shirts than competitors
100% recycled post-consumer polyester fabrics used in our blazers, skirts and trousers
Using sustainably sourced viscose in our trousers and skirts
Using responsibly sourced cotton in our 100% cotton knitwear
Choosing Teflon EcoElite, the world's first plant-based textile repellant, as our stain resistant finish on trousers and skirts
Trutex has warehouses within the EU, reducing transportation distances to Hungary, thus limiting freight pollution and customs import expenses. They use carbon neutral, fully recyclable sugar cane material for their carrier and mailing bags, and are currently looking at ways to reduce the use of plastic in their packaging further.
Uniform items that aren't sold are sent to Giving World, a charity which redistributes these garments to families in need across the world
They use FSC certified, carbon balanced paper from the World Land Trust
Research has long shown how positive learning environments and access to green space have many benefits on student learning, engagement and well-being, and we know that environmental education helps both our students and our planet in many ways. The Garden project has been an excellent opportunity for our students to learn, develop and apply their research, design, problem solving and mathematical skills in a purposeful and real-life situation, whilst also getting them to actively think about their environment and sustainability.
Earlier this academic year, our Year 6 volunteers conducted research on pupils' preferences about what children would like to see in a school Garden. Comparing the results of the data collected, they were able to create a design specification for the Garden that met the needs of our Key Stage 1 students. It was also a great opportunity for them to use their knowledge of bar graphs and tables!
Accuracy was another area our students learnt a great deal. In small groups, Year 6 and 5 took on the challenge of taking measurements of the garden space using their enquiry skills to problem solve measuring such large areas. These key pieces of data were then added to the design specification for the Garden.
During their Maths lessons, our students then took the opportunity to develop and hone their knowledge and application of using ratio for their designs. Following the design specifications allowed their creative designs to be accurate and ensured they were applicable to the space we have.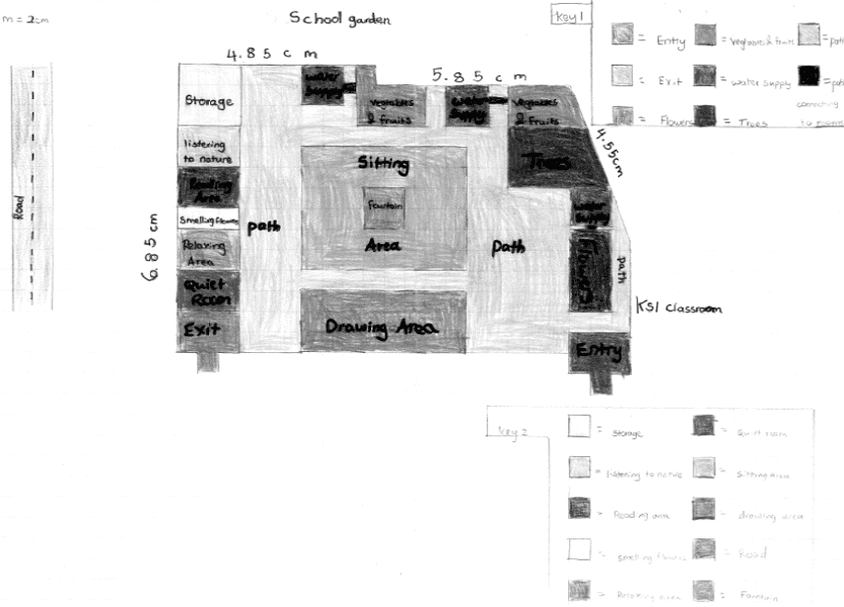 Following the design phase, our students organised a Garden-themed non-uniform day at the beginning of March to raise money for the purchase of some of the plants they envision for their garden.
We look forward to seeing how this green project develops over the coming months, and our students already have possible future projects in mind, including a vegetable patch to be used in the school canteen!

Virtual Visit from UK Deputy Head of Mission
Our students had a fantastic virtual visit in Term 2 from Deputy Head of Mission, Mr Shackleton, from the British Embassy to discuss issues surrounding rainforests and sustainability, covering various topics, interesting questions and ideas around what we can do to save our planet.
We look forward to hosting similar events and workshops in the future.
As a school, we continue to look for further ways to build sustainability into our school culture, in the curriculum, across all operations and management of the school, and throughout our connections and partnerships in the local and wider community.